Radial Gates
Custom Made Gates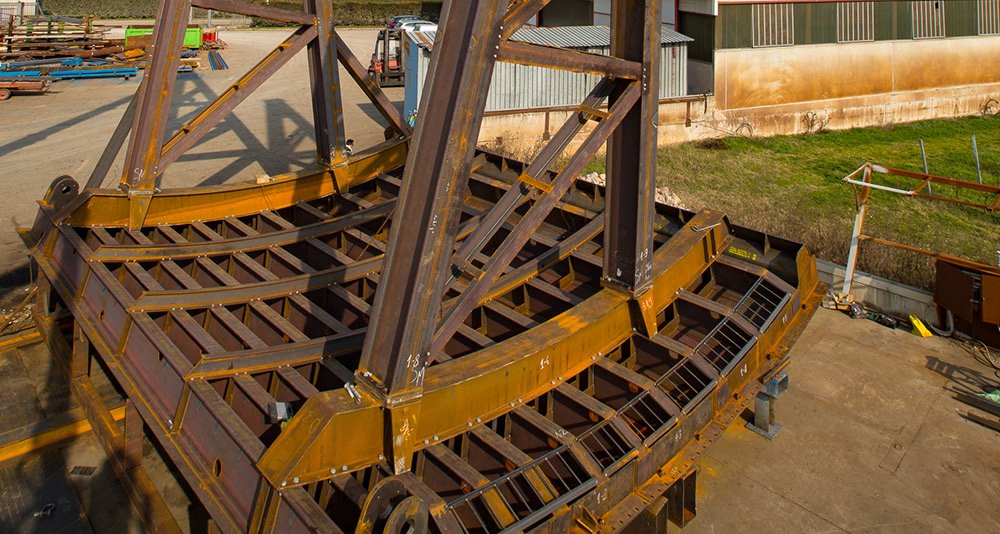 The Radial Gate (also called Tainter Gate) is a different type of floodgate used to control the water flow through dams' spillways and river barrage.
The design of the Radial Gate consists of a reinforced curved skin plate that has horizontal beams to reinforce the structure and two main vertical beams to transfer the load to the main rotational arms located on either side. At the ends of the radial arms the rotation is being possible by a frame mounted 'trunnion' located on the adjacent concrete walls. This system enable circular rotation of the gate to be achieved during the 'opening/closing' operations.
When closed, the outer curved surface of the skin plate is loaded against the water pressure with the radial arms and associated pivoting system located on the dry side.
Flexible and custom made design solutions:
The gate dimensions can be adapted to fit with the existing site conditions or with special design required by the civil works.
Sealing System: rubber in bottom, top (when necessary) and lateral sides, seated in metal (counter-seat in stainless steel attached to the concreted frame).
Possibility to operate in a partially open position to allow regulate the downstream water flow.
Possibility to operate in submerged conditions with sealing at the top of the gate. In this event a special sealing system in the upper side of the gate is provided.
Various solutions for trunnions connection with the concrete structure:
A) Hinge connected to a concrete tooth protruded from the side walls;
B) Trunnion embedded in the lateral side walls;
C) Hinge connected to a steel trunnion beam, anchored to the side walls by means of post-tensioned tendons;
Versatile Operating systems:
A) Hydraulic cylinder single action: opening by pressurized oil and closing by self weight;
B) Electric motor coupled with chain (or rope) lifting system;
C) Special operational system defined and agreed with the customer;
Possibility to supply a full set of accessories:
Hydraulic Power unit;
Electrical Cabinet;
Original Spare Parts;
All phases of the engineering design and fabrication through to final testing are undertaken by Vortex Hydra in compliance with UNI EN ISO 9001 Quality Management System.
Vortex Hydra's range of application:
Wide range of dimensions without limitations in width and height
MAIN MATERIALS