Fixed Cone Valves
Custom made valves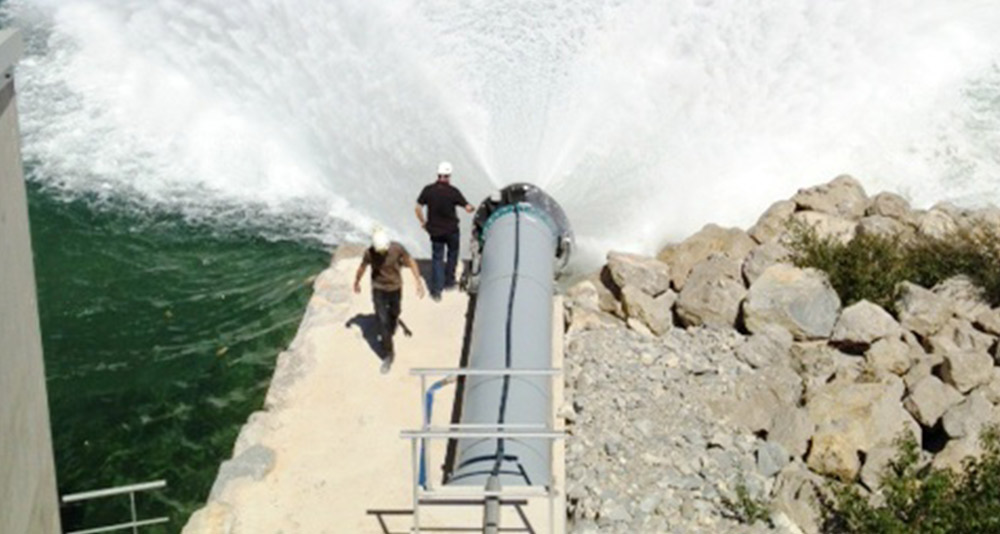 The Fixed Cone Valves are mainly used in applications that require water to be freely discharged into the atmosphere at controlled rates. This type of valve dissipates enormous amounts of energy by breaking down the water into a large, hollow expanding jet.
The Fixed Cone Valves are designed to operate at variable controlled flow rates between fully open and fully closed without creating damaging vibrations.
Although the primary objective of this type of valve is for free discharge of water into the atmosphere, Fixed Cone Valves can also be used for submerged discharge operations.
In the event that site conditions require concentration of the water outflow, Vortex Hydra also design and manufacture suitable Concentration Hoods.
Flexible and custom made design solutions:
The valve dimensions can be adapted to fit with the existing site conditions;
Sealing System: rubber seated in metal.
Versatile Operating systems:
A) #2 hydraulic twin cylinders double action: opening and closing by pressurized oil;
B) #1 electric motor coupled with gearboxes and lateral screws;
Possibility to supply a full set of accessories:
Concentration hood;
Upstream connection pipe;
Hydraulic Power unit;
Electrical Cabinet;
Original Spare Parts;
Vortex Hydra's range of application:
Diameter up to DN3000
Pressure up to PN40
All phases of the engineering design and fabrication through to final testing are undertaken by Vortex Hydra in compliance with UNI EN ISO 9001 Quality Management System.
MAIN MATERIALS