Bottom Outlet Bonnetted Gates
Custom Made Gates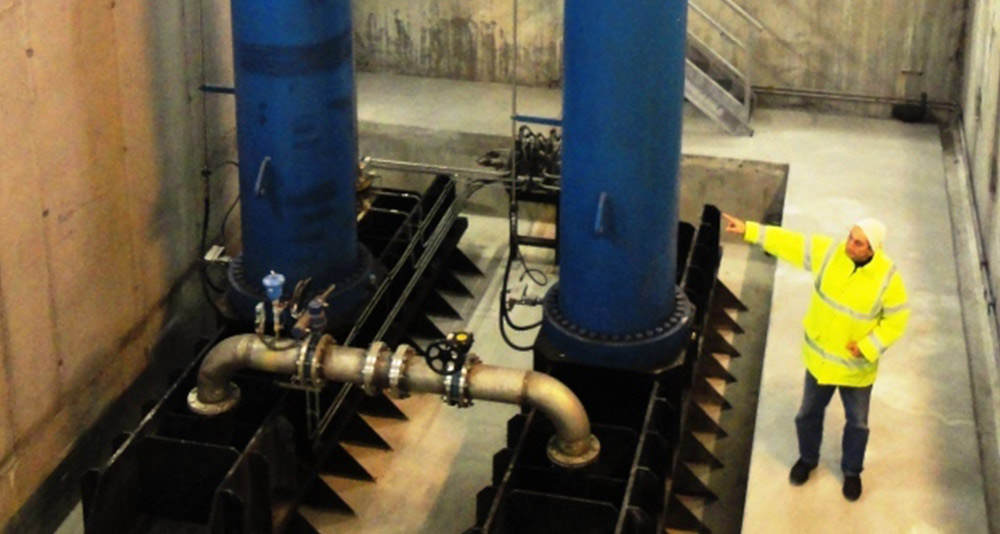 The Bottom Outlet Bonnetted Gates are high pressure gates that are employed as a safety device during dams general maintenance operations. Their specific wide dimensions allow the dam basin to be emptied very quickly.
Located at the bottom (or at the mid level) of the dam's basin, they consist of a pressurized pipe that is closed by twin sliding gates, that allow water to pass through even when partially open. The design of the sealed case allow to resist to pressurized conditions without water leak on the walkable floor, where the cylinders and the related control units are normally installed.
he concept of twin operating gates in the dam's bottom outlet enables extraordinary maintenance activities to be undertaken such as the removal of sand, debris and other kinds of obstructions that can accumulate in the bottom of the basin. By closing the upstream gate, safe access is provided to the downstream gate for periodic maintenance activities such as seal replacement etc.
The gates can be either of slide or fixed wheel type, depending on the water load and operating conditions.
The Bottom Outlet Bonnetted Gates are fabricated in steel plate that is suitably reinforced with various steel sections to withstand the water pressures.
Flexible and custom made design solutions:
Sealing System: rubber in bottom, top and lateral sides;
Seated in stainless steel attached to the gate sealed casing and machined for perfect sealing performances;
For the Fixed wheel type, design of heavy duty wheels capable to withstand the water load and to allow opening/closing maneuver even in unbalanced conditions by decreasing the friction resistance;
Seal seat in stainless steel over the side, bottom and lint frames, partly embedded in the civil works;
Built by-pass system that creates a balanced water pressure either side of the upstream gate resulting in the need for a smaller type hydraulic cylinder to actuate this gate, compared with a larger cylinder that is required to actuate the downstream gate. In spite of this, Vortex Hydra recommend to use identical sized cylinders to open and close both gates. The reason is this design consideration not only enhances long life performance, but also simplifies the management of the plant with regard to spare part storage.
Design adaptable to the operating conditions:

A) Both gates are of slide type;
B) LThe upstream gate is of slide type, the downstream gate is of fixed wheel type;
C) Both gates are of fixed wheel type;
Versatile Operating systems:
A) Hydraulic cylinder single action: opening by pressurized oil and closing by self weight;
B) Hydraulic cylinder double action: opening and closing by pressurised oil;
C) Electric motor coupled with gearbox and vertical stem;
D) Special operational system defined and agreed with the customer;
Possibility to supply a full set of accessories:
Bypass system;
Hydraulic Power unit;
Electrical Cabinet;
Original Spare Parts;
All phases of the engineering design and fabrication through to final testing are undertaken by Vortex Hydra in compliance with UNI EN ISO 9001 Quality Management System.
Vortex Hydra's range of application:
Wide range of dimensions without limitations in width and height;
MAIN MATERIALS